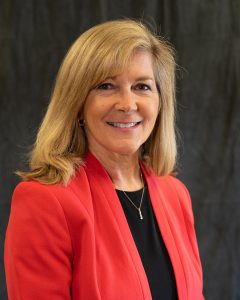 Director Melinda Hendrix is a lifelong resident of Bloomfield and earned a Bachelor of Science degree in Mechanical Engineering at Purdue University before going on to get her MBA at Ball State. She and her husband, Tim, have been married for 34 years and their family includes two children and five grandchildren.
Melinda recently retired as a Deputy Comptroller after spending nearly 40 years working for Naval Surface Warfare Center, Crane. Her career began in engineering and project management, and she held multiple supervisory roles before transitioning to a Deputy Department Head, where she managed daily operations for several departments. She loved the opportunity to serve her county (specifically the warfighter) as a civilian leader in an organization of 3700+ employees.
A contributing member of her community, Melinda has been a member of several organizations and boards, including the Bloomfield Downtown Revitalization Board, Bloomfield First Presbyterian Church, and Bloomfield Psi Iota Xi Sorority. She is extremely proud of achieving a work-life balance as a working mother with a demanding career.
As Director, Melinda looks forward to the ability to serve her community in a new way and bring her government background to the team in order to continue to keep UDWI's overall costs low. She believes her fresh perspective and dependable approach will be a great asset to the board.
To contact Melinda, email her at mhendrix@udwiremc.com.